Carriage Driving

Carriage driving is an exciting and exhilarating sport for the whole family. If you are thinking about learning to drive then Bradbourne is the place for you. Here you will learn the skills involved in carriage driving, where you will receive one-to-one tuition from one of our instructors. Sara Howe owns and runs the BDS approved driving centre and has many years experience competing internationally representing Great Britain. She really enjoys sharing her passion of the sport with others.

Your lessons will begin with learning or demonstrating your knowledge of harnessing up the horse and putting it into the carriage. You will then master the rein handling skill by driving in the ménage, around the fields or on the local roads. For those of you who are intermediate to advanced level, there is the option of driving a multiple turnout. Lessons are usually for one hour however, it is recommended that complete beginners start with a 1.5 hour taster session.

Even experienced drivers need to hone their skills. You may be having problems achieving a particular movement, so having someone on the ground that can see where you may be going wrong can help.

Twice a year we hold a carriage driving camp allowing fellow drivers to get together with their own turnouts. We get drivers from all over the county coming down; we have a good laugh whilst learning something at the same time. When it comes to this event, there maybe the option of putting your horse into B & B with us, saving you the problems of commuting daily. If you enjoy it that much you could also join Bradbourne Carriage Driving Club and meet other driving enthusiasts.
Carriage driving takes place at many levels, Club, National and International, of which Sara has got two bronze medals representing Great Britain in 2003, 2005, 2007, 2011 and 2013 . When winter moves in so does the training. Over the winter carriage driving moves indoors and so the fun goes on. Come and talk to us. Who knows with our help it could be you that gets to represent Great Britain.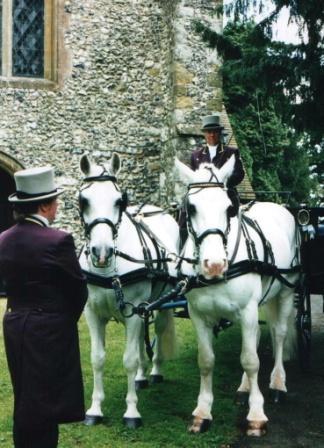 Other services provided by Sara and her team at Bradbourne are:
Backing, breaking-in and schooling
Teaching much loved but sadly outgrown family ponies how to pull carriages (thus extending their 'working' life)
Childrens birthday parties
Special occasion drives
Taster driving days
Corporate/team building days

Private 1:1 lessons for jumping, x-country & dressage
Weddings

Please go to our website: howe-to- drive.co.uk or contact us on Tel: 01732 459518 / 453592